Reducing your food waste is not only good for the environment, but it can also save money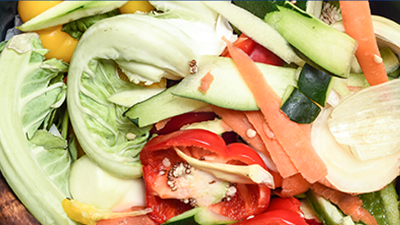 Good for the environment
Reducing your food waste is one of the easiest ways to tackle climate change. Landfilling just 1kg of food has the same carbon impact of 25,000 plastic bottles degrading in landfill!
When food waste is sent to landfill, it will breakdown and release methane, a greenhouse gas and contributor to climate change. Using your brown bin, or composting at home, are the best ways to dispose of any food waste you cannot avoid. Food recycled in brown bins is composted locally in Glenfarg. Local farmers will spread the compost on their fields to help add nutrients back into the soil to promote healthy crop growth.
Good for your pocket
Throwing away food that could have been eaten costs the average Scottish household around £460 every year! Taking simple steps such as meal planning, using shopping lists or taking a fridge or store cupboard "shelfie" before you go shopping can all cut down on buying things we don't need.
Why not explore shopping using Food Redistribution Options (PDF) [294KB] too - it saves money and is good for the environment.
For inspiration on where to start on your food waste reduction journey, visit Love Food, Hate Waste Scotland
Food waste reduction in Perth and Kinross
The average household in Perth and Kinross fills one third of their general waste bin with food waste - and most of that food is still edible and in it's packaging!
The Waste Team have worked in partnership with many organisations in recent years to run events and create resources to address the issue of food waste. A selection of videos to provide you with inspiration can be found below:
Unavoidable food waste - such as vegetable peelings, fruit cores, used tea bags and used coffee grounds - can be recycled (without a garden waste permit) in the kerbside brown bin or composted at home so that it doesn't go to landfill.
Last modified on 06 April 2022